Hotels in Zhengzhou
Our top picks
Lowest price first
Nearest to
Best reviewed
Fast facts about Zhengzhou, China
| | |
| --- | --- |
| Accommodations | 3,138 properties |
| Popular hotel | Hilton Zhengzhou |
| Popular area | Jinshui |
| Nightly rates from | $11 |
| Airport | Zhengzhou Xinzheng International Airport |
Where to stay in Zhengzhou
---
4-star hotels in Zhengzhou
---
Guang Dong Hotel Zhengzhou is an excellent 4-star hotel in Zhengzhou. I feel enjoyable during my 3-night stay as the staff are very helpful whenever I seek help and advice. I believe this 4-star hotel attracts numerous travelers each year owing to its good location, it is very near to Metro station and Zhengzhou railway station. I travel to Luoyang city and Kaifeng cit...
---
Novotel Zhengzhou is a huge hotel with a very large conference and convention center for china standard the hotel understanding of english and attitude is helpful rooms and eating options are quite good nothing exceptional about hotel but nothing wrong as well a recommended hotel in ZHENGZHOU
---
Value for money and it is just several minutes away from Zhengzhou East HSR station by taxi. Location is great for whom stay overnight for HSR.
---
So glad we chose this hotel, it made our stay in Dengfeng. Excellent value for money when you take into account breakfast and the fabulous kung fu show. The restaurant was delicious and the customer service outstanding with lots of little extras like a rose, biscuits before bed, king fu monk figures left in the room for the kids. Also the pillows were really comfortabl...
---
Hotel was clean and quiet, the location for our purposes was great, about 10 minutes from the International Exhibition Center. The staff was friendly and all spoke good English. As this hotel is part of a compound, with several hotels the area is really quiet, which is nice. The breakfast was great, huge selection of various dishes. We would stay in this hotel again wh...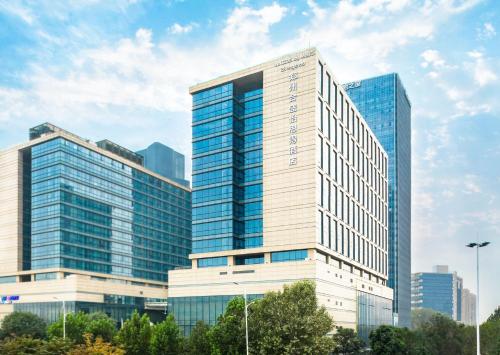 ---
Come this place in end of Nov that temp around 4-12 degree celsius so hotel may set air circumstance to be heater . Even we set temp 16, still hot and sweat during night.
---
Sadly I didn't get to visit this hotel due to the fact that my airline decided to fly at 2am in the morning. I had no time to visit the hotel. Next time.
---
This hotel is a great deal for travelers looking for luxury at a good price. Hotel is stunning in it design and appointments.
---
This was my first time received welcome Seasonal Fruit & Tapioca Dessert upon check-in, which normally hotel only provide welcome drinks. Food & beverage in the Restaurant, Bar never disappoint, but the staff was too slow motion. For the bathroom, I like the idea of design & good performance of the drainage system. This has gave me the idea to re-renovate the bathro...
---
Luxury hotels in Zhengzhou
---
We were only in Zhengzhou for one night on our way to see Shaolin Temple and Longmen's Grottos, but it was a really nice hotel and up to the standards of other Marriotts we have stayed in.
---
Though the hotel is not located in the downtown, its location is still pretty good. As it is nearby a subway station and only 5 km from the city's high-speed railway station, it is convenient for business people and tourists to take advantage of the fast transportation means. In addition, the breakfast choices are plenty and good enough. Finally, the front desk staffs ...
---
the rooms were clean and comfortable by american standards. the location is not the best part of town, but a 1 mile walk will get you near the central business district which is a beautiful and clean part of town. i would recommend this hotel if you are thinking about wanting to be near the business district on a budget.
---
Very nice hotel if you have business in South or West Zhengzhou. English speaking staff made our stay nice. We arrived very late and staff was not aware of Agoda. We were the only Westerners in the hotel that I noticed. Definitely rates a 5 star and I would stay here again. Be very careful coming from the airport at night and ONLY take metered taxi if possible...
---
Very things are good, except it is a bit outside from the city center and difficult to find a taxi.
---
Zhengzhou hotels with breakfast
---
Frequently asked questions
What are the best properties in Zhengzhou near Zhengzhou Xinzheng International Airport?
Verified vacationers to Zhengzhou who stayed around Zhengzhou Xinzheng International Airport have given top rated reviews to Hanting Hotel Zhengzhou Xinzheng Airport Chang'An Road, Vienna Hotel Zhengzhou Airport Branch and Courtyard Zhengzhou Airport.
What are the best places to stay in Zhengzhou for two guests?
Hotels in Zhengzhou that are widely scored by couples include Sofitel Zhengzhou Hotel, Holiday Inn Express Zhengzhou Zhengdong and JW Marriott Hotel Zhengzhou.
What are the best places to stay in Zhengzhou for families?
Resorts in Zhengzhou that are significantly rated by families include Sofitel Zhengzhou Hotel, Holiday Inn Express Zhengzhou Zhengdong and JW Marriott Hotel Zhengzhou.
What hotels in Zhengzhou have the best views?
Verified tourists to Zhengzhou have given exceptional testimonials for the views at Zhengzhou Yuehai Hotel, Henan Sky-Land GDH Hotel and Novotel Zhengzhou Convention Centre Hotel.
What are the ideal accommodations found in Zhengzhou for group vacationers?
Resorts around Zhengzhou which are highly rated by group tourists are Sofitel Zhengzhou Hotel, Holiday Inn Express Zhengzhou Zhengdong and Holiday Inn Zhengzhou Riverside.
What hotels around Zhengzhou are highly rated regarding facilities?
Resortsin Zhengzhou that is highly rated for facilities include Crowne Plaza Zhengzhou High Tech Zone, an IHG Hotel, Jinjiang Inn Henan Museum Hutun Metro Station and Holiday Inn Zhengzhou Riverside.
What hotels found in Zhengzhou are very highly rated with regards to room comfort and quality?
Accommodationsin Zhengzhou that is exceptionally rated with regards to room comfort and quality include Courtyard Zhengzhou East, Lavande Hotel Zhengzhou Garden Road Branch and JW Marriott Hotel Zhengzhou.
What are the most appropriate hotels around Zhengzhou with free parking?
A property that has free parking found in Zhengzhou that is exceptionally rated is Zhengzhou Crossing Hotel.
What attraction should I explore when I'm touring Zhengzhou?
Best points of interest in Zhengzhou include Henan Science and Technology Museum, Erqi Strike Monument Tower, and Zhengzhou Museum.
Where can I reserve rooms in Zhengzhou with free cancellation policy?
Yes, you'll find most hotel rooms provide free cancellation rates, in which you can expect to receive a full refund if you cancel before the deadline. Filter your search by free cancellation to find flexible hotel offers in Zhengzhou.
What are some approaching holidays in Zhengzhou?
The forthcoming holidays in city_name include Mid-Autumn Festival (Zhong Qiu Jie) on 9/29/2023, Mid-Autumn Festival Holiday on 9/30/2023, and National Day (Guoqing Jie) on 10/1/2023.
Is covid test upon arrival mandatory for fully vaccinated travelers to enter Zhengzhou?
COVID-19 test may be required on arrival when entering Zhengzhou from outside the country. For updated and detailed information on travel restrictons, remember to have a look at the official websites of the travel authority or government of the country you hope to travel to, or go to here.
Explore more travel vacation rentals
More about Zhengzhou
Discovering the Hidden Gems of Zhengzhou, China
Zhengzhou is a city that is often overlooked by travelers, but those who take the time to explore it will be rewarded with a wealth of hidden gems. One of the most unique attractions in Zhengzhou is the Henan Museum, which houses over 130,000 pieces of ancient Chinese art and artifacts. Another must-visit destination is the Shaolin Temple, a UNESCO World Heritage Site that is considered the birthplace of martial arts. For those who love the outdoors, the Yellow River Scenic Area is a stunning natural wonder that offers breathtaking views and plenty of opportunities for hiking and exploration.
Top Reasons to Visit Zhengzhou: From History to Modernity
Zhengzhou is a city that seamlessly blends the old with the new, making it a fascinating destination for travelers of all ages and interests. For history buffs, the city is home to a number of ancient sites and landmarks, including the Songyue Pagoda and the Zhengzhou Ancient Shang City Ruins. Meanwhile, modern architecture and attractions like the Zhengzhou International Convention and Exhibition Center and the Zhengzhou Greenland Plaza offer a glimpse into the city's future.
Traveling to Zhengzhou: Tips and Tricks for a Hassle-free Trip
Traveling to Zhengzhou is easier than ever, thanks to its convenient location and excellent transportation infrastructure. The city is served by Zhengzhou Xinzheng International Airport, which offers direct flights to major cities throughout China and the rest of the world. Once you arrive, getting around the city is a breeze thanks to its extensive public transportation system, which includes buses, taxis, and a modern subway system.
Unforgettable Experiences: Fun Things to Do in Zhengzhou
No matter what your interests are, there are plenty of fun things to do in Zhengzhou. For a unique cultural experience, check out the Henan Opera, which is known for its beautiful singing and intricate costumes. If you're looking for a thrill, head to the Zhengzhou Ferris Wheel, which offers stunning views of the city from its 120-meter high vantage point. And for a taste of the local nightlife, be sure to check out the bars and clubs in the city's bustling downtown area.
Where to Stay in Zhengzhou: The Best Hotels for Every Budget
Zhengzhou offers a wide range of accommodation options to suit every budget and preference. For luxury travelers, the JW Marriott Hotel Zhengzhou and Hilton Zhengzhou are both excellent choices, offering world-class amenities and stunning views of the city. For those on a tighter budget, the Holiday Inn Express Zhengzhou Zhongzhou and Novotel Zhengzhou Convention Centre Hotel are both great options, offering comfortable rooms and convenient locations.
Taste the Flavors of Zhengzhou: A Foodie's Guide to the City
Zhengzhou is known for its delicious cuisine, which is heavily influenced by the flavors of Henan Province. Some of the must-try dishes in the city include the famous Henan-style noodles, which are thick and chewy and served with a variety of savory toppings. Other popular dishes include the spicy and fragrant hot pot, as well as the crispy and flavorful fried dumplings.
Best Time to Visit Zhengzhou: Seasonal Highlights and Weather Guide
The best time to visit Zhengzhou depends largely on your personal preferences and interests. The city experiences four distinct seasons, with hot and humid summers and cold winters. Spring and autumn are both popular times to visit, as the weather is mild and comfortable and the city's parks and gardens are in full bloom. Meanwhile, winter is a great time to visit if you're interested in winter sports, as the nearby ski resorts offer excellent conditions for skiing and snowboarding.
Getting Around Zhengzhou: Transportation Options and Tips
Getting around Zhengzhou is easy and convenient, thanks to its extensive public transportation system. The city has a modern subway system that connects to all of the major attractions and neighborhoods, as well as a network of buses and taxis. If you're looking for a more unique way to get around, consider renting a bike or taking a ride in one of the city's iconic three-wheeled tuk-tuks.
Why Book Your Zhengzhou Hotel with Agoda.com: Benefits and Perks
When it comes to booking your hotel in Zhengzhou, there's no better choice than Agoda.com. With a wide range of accommodation options to choose from and unbeatable prices, Agoda.com makes it easy to find the perfect hotel for your needs and budget. Plus, with a user-friendly interface and 24/7 customer support, you can rest assured that your booking experience will be hassle-free and enjoyable.